The Model United Nations Institute is organized and led by a team of Model UN professionals with experience running programs in over twenty countries.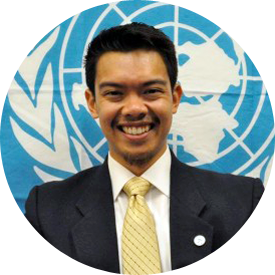 Ryan Villanueva
Co-Founder & Program Director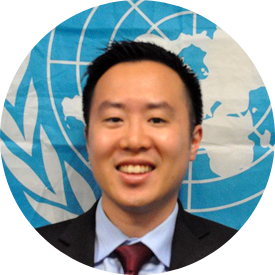 Kevin Felix Chan
Co-Founder & Program Director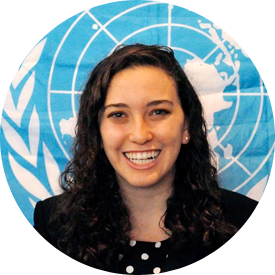 Laurabeth Goldsmith
Director of Partnerships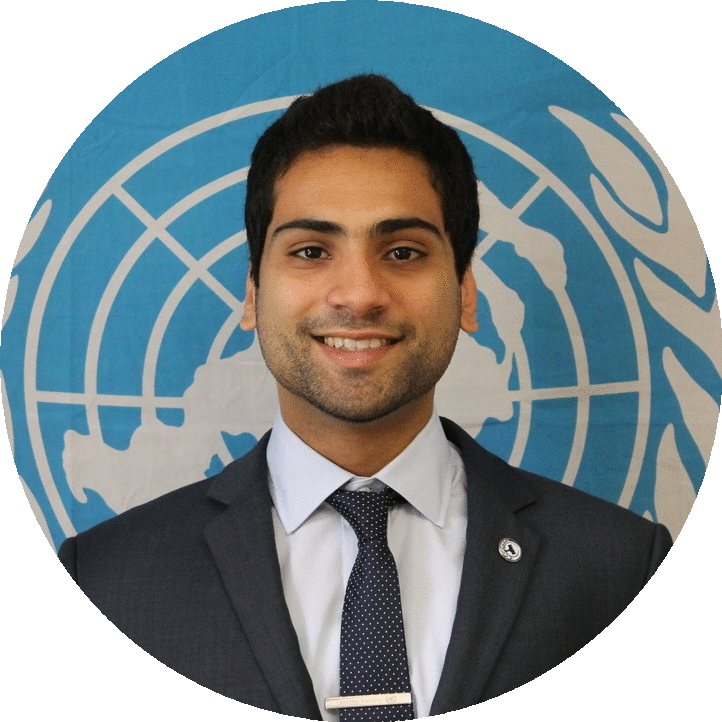 Avik Chakravarty
Director of Finance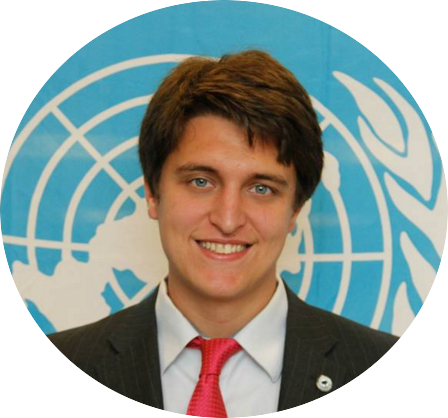 Erik Leiden
Director of Operations
MUN Institute Staff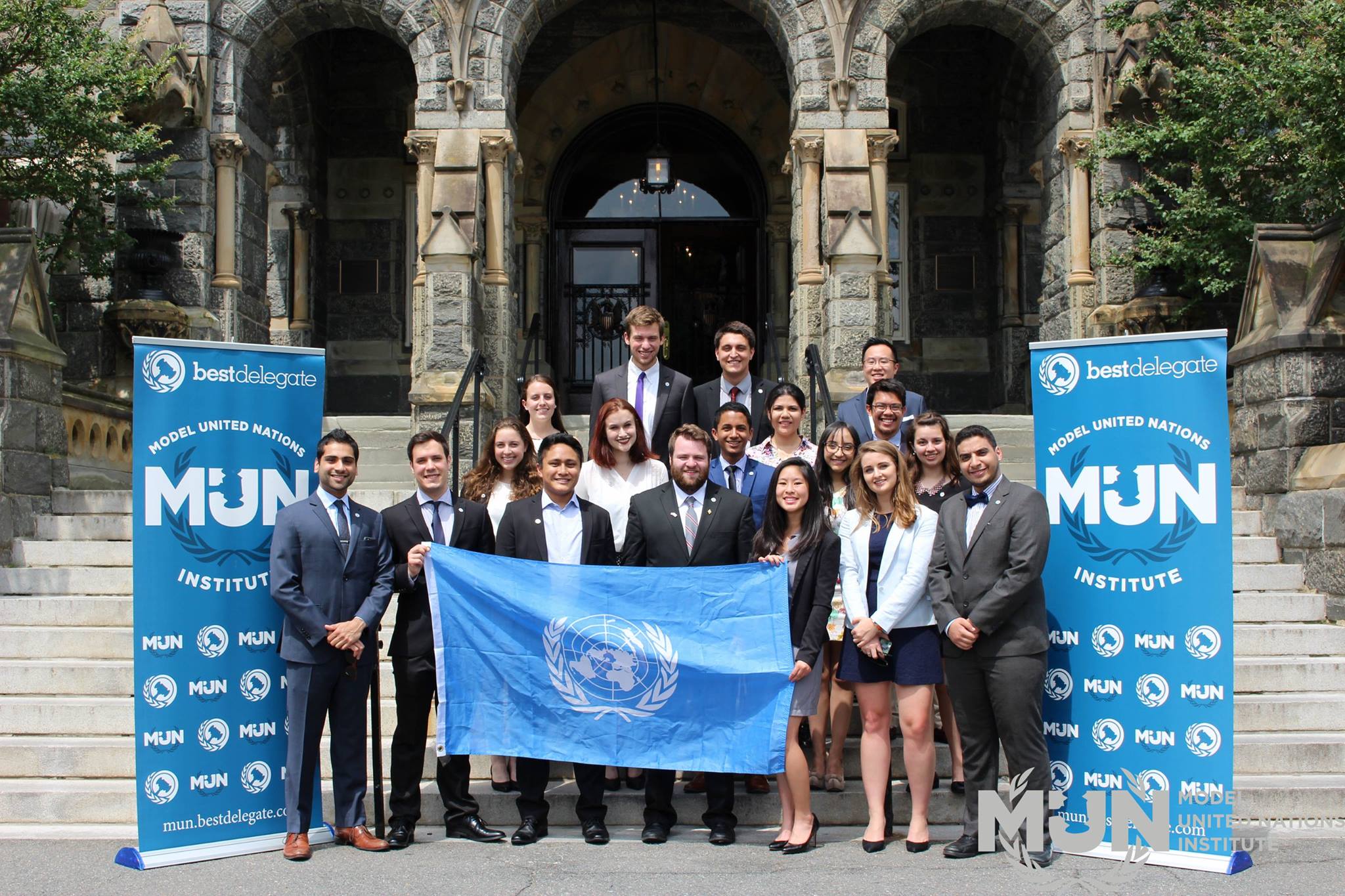 We believe in personalized instruction and maximizing student safety, which is why we maintain a 1-to-8 staff-to-student ratio at each MUN Institute program. Our programs are staffed by the best and most inspiring leaders on the college MUN circuit – the Program Managers, the MUN Mentors, and the Residential Counselors are all there to guarantee an amazing experience for every student.
The Program Managers serve as the directors for each MUN Institute program, and they have been trained to ensure that the MUN Institute is a safe, fun, and educational environment for every student. The MUN Mentors serve as the Model UN instructors and trainers throughout the week, and will work closely with each of their students to help them improve through practice, feedback, and encouragement. The MUN Mentors are all successful leaders from their college MUN programs. The Residential Counselors will manage residential supervision, evening programming, weekend programming, and general safety throughout the program. Our counselors are university students with significant experience in counseling and residential supervision.
---
The MUN Institute Staff from Summer 2016! Program Managers Aaron Kalafarski
This will be Aaron's fourth summer involved with Best Delegate's Model UN Institute. He started off as a local volunteer four summers ago and then served as a Diplomacy Fellow over the past two summers. During the past year, Aaron graduated from the University of Florida and moved to South Korea to teach English. In Korea, Aaron taught elementary school, middle school, high school, University, and adult students between the ages of four and thirty years old. He is also the current Editor-in-Chief of Best Delegate's Media Team. In his free time, he enjoys playing sports, sharing stories, and consuming pop culture. He is excited to be returning to the Best Delegate team!
---
Ibrahim El Kazaz
Ibrahim is an Egyptian American currently studying International Relations in Istanbul Bilgi University. Over the last 6 years, Ibrahim has attended Model UN Simulations in Europe, the Middle East, East Asia, the United States, as well as online. In his High school career, he served as the first President of the Security Council in Hayah International Academy's Model UN in Egypt. Then became an Assistant Director at THIMUN O-MUN for Africa then Europe, followed by Head Trainer at the Istanbul Bilgi University MUN team. He has also served as a Diplomacy Fellow and trainer with Best Delegate in the US, India, and Korea. Throughout his Model UN Career, he has had the chance to participate in the various formats and styles of MUN, including THIMUN, UN4MUN, North American Procedure, as well as Crisis Simulations.
Diplomacy Fellows
Caroline Bello
Caroline Bello is a rising junior at George Washington University in Washington, DC. She is majoring in International Affairs with a concentration in conflict resolution and is minoring in journalism. During high school she served a three year tenure as Secretary-General and staffed George Washington's high school conference, WAMUNC, for the past two years both as a crisis staffer and a chair. She is the current Editor for Model UN Training Resources for bestdelegate.com. This past year Caroline worked with Best Delegate as a Diplomacy Fellow in the United States, as well as in India and South Korea. Caroline is an alum of the Model United Nations Institute and hopes to be able to provide this year's students with the same amazing experience that she had in high school.
---
Caroline Rose
Caroline Rose is a sophomore at American University's School of International Service, majoring in International Relations with a concentration in Foreign Policy, and double-minoring in Middle Eastern Studies and Journalism. There is no question that Model UN has been a driving force in Caroline's passion for International Relations, as Caroline has been enjoying Model UN for over four years. She has held positions of President, Head Delegate, Best Delegate Contributor, Chair, Secretary General, but her favorite role has been a teammate of her university's MUN team. While Caroline has been fortunate to have won a collection of awards in both college and high school, her proudest achievement was grooming American University's team to place as the top #23 team in North America on Best Delegate within a year of being ranked at the bottom #75. Outside of Model United Nations, Caroline serves on the Executive Board of her university's International Relations Society, is an active member of the Delta Phi Epsilon Professional Foreign Service Sorority, and is a writer for the World Mind Academic Journal and Best Delegate LLC. She looks forward to working with enthusiastic delegates this summer!
---
Natalia Daza
Natalia is a student at Universidad de Los Andes pursuing a double major in Political Science and Economics, with a minor in Gender and Sexuality studies. She has grown passionate for Model United Nations over the last five years. Natalia had the opportunity to attend Best Delegate's Model UN Institute in 2013 and 2014 , and she is ecstatic to return as a Diplomacy Fellow! Furthermore, she has served Best Delegate as Under Secretary General of Latin America (2014-2015) and Editor of Community Content (2015-2016). Natalia currently is an active member of her university MUN society (ONUANDES), and serves as Head Delegate of Colombia's first international crisis delegation. In her spare time, Natalia enjoys feeding her curiosity and spending some nerd time with her friends.
---
Lala Kumakura
Lala is a rising sophomore at Fordham University, majoring in International Studies and double minoring in International Humanitarian Affairs and Spanish. She has been devoted to Model UN ever since the seventh grade. In middle school, she competed for the travel team in her school and was chosen to attend conferences in different continents. On both the high school level and college level, Lala has taken initiative by founding and leading Model UN programs. She is currently the Vice President at Fordham Model UN and Director General of Fordham's first high school conference.  Lala attended the Model United Nations Institute in 2013 and she is thrilled to return as a Diplomacy Fellow! Besides MUN, she enjoys traveling, learning languages, and dancing salsa.
---
Aliana Michals
Aliana Michals is a rising Sophomore at the George Washington University in Washington D.C. studying Political Science and Psychology. Since joining her high school's MUN team during her freshman year, she has devoted endless time to the world of Model UN. She became the Head Delegate and President of the team her senior year. At GW, besides working with WAMUNC as a crisis staffer, Aliana is a Program Instructor for The Anbryce Foundation's Saturday Institute as a 1st and 2nd grade teacher. Aliana has also interned with Friendship Ambassadors Foundation, Girl's Inc, and the Youth Assembly at the United Nations. She is a two time Model United Nations Institute alumni and is excited to be returning as a Diplomacy Fellow! Besides Model UN, Aliana enjoys dance, running, and politics.
---
Elaine Miao
Since her first conference at Boston University as a high school freshman, Elaine has developed a passion for Model UN. Throughout her high school career, she has won an award at four out of the seven conferences she has attended, and became president of her school club senior year. Elaine is also a Best Delegate alum, and worked as a local staffer for Best Delegate in Boston after graduating high school. As well, she was accepted to the All-American MUN program in 2014, traveling to Budapest with eleven other students around the United States to compete in an international conference. A first-year political science major at UCLA, Elaine won best delegate at her first college conference, and is excited to continue participating in Model UN.
---
Khalil Mair
When Khalil joined Model UN in seventh grade, he was a nervous public speaker who shook every time he spoke, but his years in Model UN have transformed him. As a delegate, his passion for creative research and solutions has led him to win 9 Best Delegate awards. Khalil has served as President of his travel team and founded Ontario's only bilingual high-school conference, serving as a USG, Secretary-General, and Director-General. In his free time, he enjoys reading, swimming, and laughing at American politics. Khalil will study Philosophy, Politics, and Economics at Oxford University.
---
John Daniel Masangkay
John is a second-year student at the University of Toronto pursuing a specialist in Peace, Conflict, and Justice at the Munk School of Global Affairs. He has additional disciplinary focuses in Psychology dealing with mental health issues, and Sociology dealing with criminal activity and health studies. He's been hooked on MUN the moment he was physically dragged into showing up to MUN training at his high school. Fast forward several years and he is now an executive training director for the University of Toronto's competitive MUN team, hoping to improve the skills of advanced delegates while also showing novice members the complexities and joy that MUN participation can bring. Aside from helping staff MUN conferences at his school, training members of the UofT MUN team, and being a delegate himself, John is also an avid member of his school's competitive Quidditch team (yes it's a real thing; and no, we don't actually fly).
---
Delany Sisiruca
Delany Sisiruca is a former Harvard head delegate and is still an active participant on the team a year later. She has been involved in Model UN since her sophomore year of high school, and has now won 8 Best Delegate awards (and counting!) and was listed by Best Delegate as an All-Star in 2015. Her favorite part of Model UN is how it instills strength in students, allowing them to practice their public speaking and negotiation skills.
---
Angela (Min Yi) Hou
Angela is a student at the University of Toronto who is pursuing a double major in International Relations and Contemporary Asian Studies. She has been involved in Model UN since the beginning of high school, and has served as the head delegate for two years,  as well as the Secretary-General for the first MUN conference hosted at her school. As an alum of Best Delegate, Angela continues to develop her passion for Model UN in university, holding formal staff positions in all four MUN groups on campus at U of T. She is ready to share her passion for MUN, as well as the inspiration and joy MUN has brought her. When she is not MUN-ing, Angela enjoys reading, singing, and discussing anything related to Chinese history!
---
Kaitlyn Perreault
Kaitlyn Perreault is a student at Boston University pursuing degrees in International Relations and Psychology. Within her majors, she focuses on Middle Eastern politics and trauma in regions of conflict. She has been involved in Model UN since high school and is now the Secretary-General of BarMUN IX, Boston University's collegiate Model UN conference, after serving as its Chief of Staff. She is proud of the awards she has won competing in Model UN, and is even more proud of the committees and debate she has had a part in creating. Outside of Model UN, Kaitlyn is involved in student government, works at a local hospital, and serves on the executive board of her school's International Affairs Association.
---
Elizabeth Burke
Elizabeth Burke is a rising junior at Boston University studying International Relations, Public Health and Sociology. Within this field of study, she focuses on International Systems and World Order in Europe and the intersection between policy and individuals. She began Model UN as a freshman in high school, traveling to conferences along the East Coast. At Boston University, Elizabeth has staffed both Model UN conferences each year. This past year Elizabeth served as the USG of General Assemblies for BU's high school Model UN conference, BosMUN, which hosts over 1200 delegates from around the country and abroad. She hopes to translate her studies and practical experience with Model UN into a career working in post-conflict environments, helping to coordinate aid and sustainable strategy for nations transitioning out of civil strife. Outside of the International Affairs Association at BU, Elizabeth serves as the Vice President of Scholarship for her sorority, leads Alternative Service Breaks through the Community Service Center, and interns in the Education department of the United Nations Association of Greater Boston.
---
Cory Alpert
Cory Alpert is a student at the University of South Carolina Honors College currently studying Sociology and Russian. Within sociology, he focuses on social networks, as well as power and legitimacy. He also studies at The University of Queensland, Australia, where he is part of the University of Queensland United Nations Student Association. He began a MUN career in high school, but he took a long hiatus to focus on other projects. At UQ, he has served as a delegate to many conferences in both crisis and deliberative committees. As part of the UQUNSA delegation, which won Best Delegation at the Asia-Pacific Model UN Conference in 2015, he also received the Best Delegate award. Outside of Model UN, he is the coordinator of UofSCRelief, the volunteer flood relief initiative of the University of South Carolina. He also serves as the director of Lead the Way, a voter registration and community engagement initiative.
---
Stevan Tempesta
Stevan is a deeply passionate individual hailing from a small town in New Hampshire. Since his nascence, he has been a natural leader, and aspired to make a positive, long-lasting global impact. After being elected both class and student body president in high school, and serving as president of his own Model UN organization (where he won an award at each conference he attended), Stevan matriculated to McGill University, in Montréal, Canada. He is currently pursuing a Joint-Honours degree in Political Science and Psychology. He hopes to use his degrees to help bridge the gaps between micro and macro levels of both group and individual behaviour. Since he began his studies, Stevan was elected Vice-President of Internal Operations of the International Relations Students' Association of McGill (the youngest person to ever hold the position), he is the Co-Founder, Chairman & President of the SuperPAC "Veritas", he has served as Sergeant-at-Arms for his fraternity Delta Kappa Epsilon, and is the President of the Alumni Board for the Model United Nations Institute. Stevan aspires to graduate from McGill and earn both a J.D. and Masters in Psychology, after which he plans to either run for Governor of New Hampshire or enter the Foreign Service.
---
Rebecca Hernandez
Rebecca is a rising sophomore at Harvard University, planning to major in mathematics and acquire a language citation in Spanish. She first entered the world of Model United Nations her sophomore year of high school, and she attended NAIMUN her junior and senior years. Being an alum of Best Delegate (summer of 2014 at Georgetown University), she hopes to help and motivate other students the way the staff helped her when she was a participant. Currently, she participates in several teaching programs at college, which include topics like U.S. Government and International Relations. She hopes to become a teacher and a leader in education after graduating, her goals being to close the achievement gap and provide equal opportunities to everyone. Outside of MUN, her interests include soccer, music, and taking scenic walks in Boston.
---
Conna Walsh
Conna's MUN career began in her freshman year of high school, when she was so nervous and afraid during her first conference that she couldn't even say a single word in front of her committee. After gaining the necessary confidence, Conna has had over 8 years of MUN experience at both the high school and collegiate levels as an award-winning delegate, committee chair, conference organizer, and MUN teacher and trainer. She studied China & Asia-Pacific Studies and History at Cornell University, where she was a proud member of the Cornell International Affairs Society (CIAS), and worked the the organization's Director of Training. Conna also worked as the Director of Operations, Chief of Staff, and Director-General of the high school level Cornell Model United Nations Conference (CMUNC) throughout her four years at school. Conna was also proud to serve as a Diplomacy Fellow for MUNI 2014. After graduating from Cornell in 2015, Conna has been based in Boston while working in the field of international education.
Residential Counselors
Olivia Chavez
Olivia is a recent graduate from San Diego State University having majored in Interdisciplinary Studies with an emphasis in English, Political Science, and International Security and Conflict Resolution. Olivia embodies the ideals of a role model who strives to reach for her dreams and inspire others to do the same. Not only does she demonstrate her dedication to the SDSU community through campus involvement, but she also strives to enhance her personal and professional development through a variety of opportunities locally and internationally. She was involved with the University Honors Council, Professional Studies and Fine Arts Civil Core, Aztec Student Union Board, Aztec Nights, Scholars Without Borders, Honors Program, National Society of Collegiate Scholars and Delta Epsilon Iota. Her academic and professional skills are highly admirable and she is considered one of top-ranked students at SDSU within the Weber Honors College. Olivia possesses the required qualities that a future global professional is expected to have. Above all, her strong conceptual skills, rich ideas, and outstanding social skills make her an excellent candidate for working with other students.
---
Sadie Williams
Sadie Williams is a rising senior at Truman State University in Missouri, where she is pursuing a major in history and a minor in Spanish. As a high school senior in Utah, Sadie worked as a tutor and grader at Kumon Learning Center, where she worked with students on reading, writing, and math skills. After attending a Girl Scout Camp in the mountains of Utah every summer for ten years, Sadie worked there as a counselor for two summers. She enjoyed teaching outdoor skills and helping girls become more confident and independent as they enjoyed being out in nature. In addition, Sadie has worked for three years as a Committee Director at the Regional High School MUN conference in San Francisco and she has studied abroad in Argentina and Spain.