At the MUN Institute, students improve their public speaking and communication skills, explore their interest in international affairs, and make friends from around the world. They receive daily one-on-one encouragement from their MUN Mentors. And by the end of the week, students see dramatic improvements in their self-confidence!
At the MUN Institute, students learn about the world's biggest challenges, from civil war and extreme poverty to human rights and climate change. They work together to find common solutions to global problems, learn about different countries around the world, and step into the shoes of UN diplomats – all while having fun and meeting other students passionate about making our world a better place!.
After attending the MUN Institute, our students go back to school and are ready to jump into the world of Model UN. Our middle school students are prepared to take on the academic and social challenges of high school, and they are ready to become involved in their local MUN communities. MUN Institute alumni have the confidence and the skills to be successful in high school, college, and beyond.
Check back on December 1 to see locations & dates for the 2018 MUN Institute Middle School programs!
Junior Diplomat
Speak with confidence. Solve the world's biggest problems.
Step into the shoes of world leaders.
All in a day's work at the MUN Institute.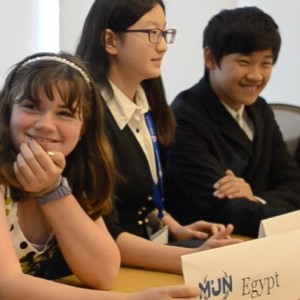 The Junior Diplomat Program is our popular middle school course, designed for students ages 11-13 who are new to Model UN. This program is right for students who have no MUN experience, or who have attended a few conferences but want to improve their MUN skills in public speaking, research, resolution writing, and procedure.
In the Junior Diplomat program, students gain the knowledge, skills, and confidence they need to be successful and have fun while participating in Model United Nations.
Students learn how countries work together at the UN to solve global problems. Every day, they practice skills in public speaking, negotiation, research, critical thinking, and leadership. Our MUN Mentors give each student one-on-one feedback and encouragement on their progress. Students participate in multiple Model UN simulations throughout the program, which ends with an all-day MUN conference.
By participating in MUN simulations, skill labs, and lectures, our students become more confident in their public speaking skills, in their understanding of global issues, and in themselves.
Program Features:
Daily Lessons (Topic Briefings, Research Skills, Negotiation, and more)

Model United Nations Simulations

Public Speaking Labs

Daily 1-on-1 Feedback with MUN Mentors

Icebreakers and Games
Start the registration process – create your MUN Institute Profile today!
Have questions?
Email us at mun@bestdelegate.com or call us at (646) 308-1411
Dates offered:
There are no upcoming events to display at this time.