From combating violence against women to averting armed conflict, students at the MUN Institute learn how to think critically about a wide variety of political issues and formulate creative solutions.
Students spend their week-long program researching the economic, humanitarian, cultural, and geopolitical perspectives of the countries they represent. They develop solutions for solving global crises and implementing political objectives. Through writing resolutions and negotiating with their peers, students learn the challenges and rewards of effective diplomacy. These skills benefit middle school-level MUN Institute students as they prepare to succeed in high school.
Alumni of the MUN Institute are never afraid to think on their feet or verbalize their thoughts. We teach them the substance, style, and structure for successful public speaking.
Key Skills
Research and Writing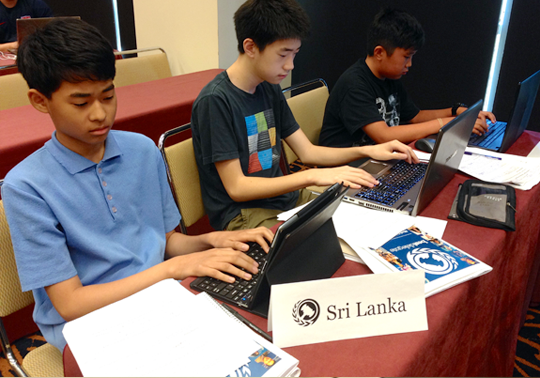 Throughout the week, students conduct in-depth research on a variety of topics relevant to the United Nations. They learn the viewpoints of different countries that they are assigned to represent.
Students can expect 30 minutes to an hour of homework each night, during which they will conduct research and write their topic position papers. Each day, MUN Mentors will provide in-depth feedback and encouragement to help students improve their research and writing skills.
---
Public Speaking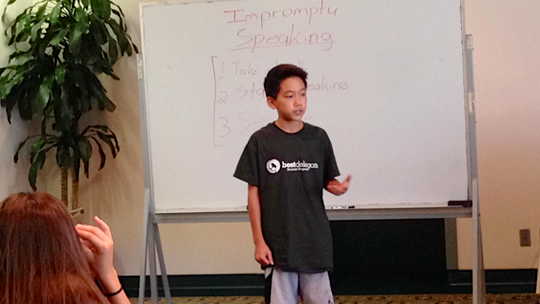 Through daily practice at the MUN Institute, students will improve their public speaking – a fundamental skill in Model United Nations and in life. Students will learn how to use structure and style to enhance their public speaking, and they will learn how to communicate diplomatically by practicing essential skills like cooperation, interaction, and social dynamics.
Delegates receive daily 1-on-1 feedback from their MUN Mentors and peers in order to improve their public speaking skills.
---
Negotiation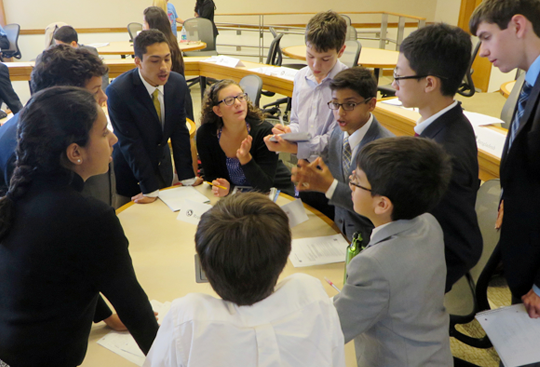 Students will learn how to negotiate, debate, and reach consensus on international issues. Each student will represent a specific country, and also portray the attitudes and political positions of that country. Students must work together to create solutions to international problems, while simultaneously staying consistent with their country policy.
Students will receive lessons on the art of negotiation, and will put this into practice while working with other students during simulations throughout the week. Students learn how to write high quality resolutions, and will receive feedback from their MUN Mentors and from their peers.
Activities and Methods
Simulations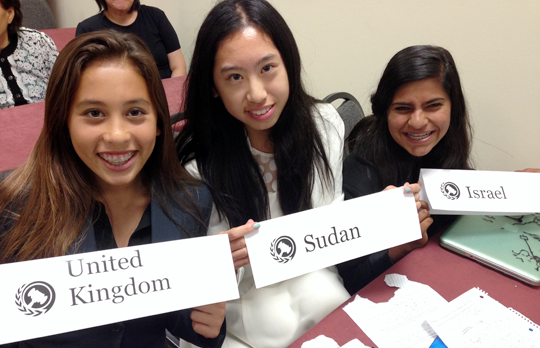 Students will participate in several Model United Nations simulations throughout the week. Through repetition and practice, students will learn both how to participate as a delegate, and how to master the skills to become a Best Delegate.
These practice simulations will lead to a full-day final simulation held on the Friday of each program. Parents, relatives, and friends are welcome to observe the final simulation during designated Open House sessions. Students are expected to dress in Business Professional attire for the final simulation.
---
Lessons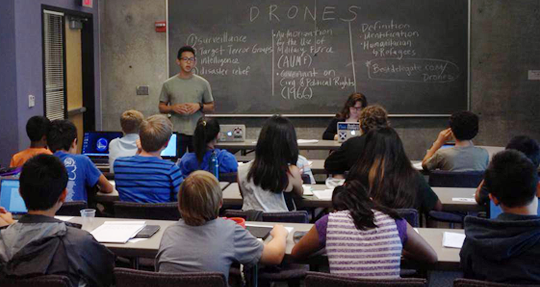 Students will participate in a variety of lessons during the week, taught by our trained and accomplished MUN Mentors and Program Directors. Our MUN Mentors are the best and most inspiring leaders in college-level MUN, and they have the experience to train students for success. Lessons cover public speaking, negotiation and communication, writing and research, topic briefings, United Nations history, and Model United Nations procedure.
---
Homework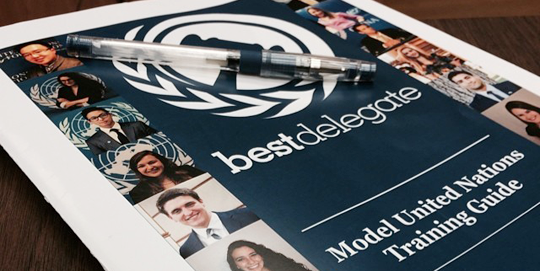 Students will participate in multiple Model United Nations simulations throughout the program, including the final simulation. Student will be assigned a different country and topic for each simulation. For each simulation, every student is expected to write a short research paper for homework. The MUN Mentors will provide instruction on how to write and research these papers, and will also provide feedback on each paper once they have been submitted.
---
Ready to Get Started?
Register Now!