Speak with confidence. Solve the world's biggest problems.
Step into the shoes of world leaders.
All in a day's work at the MUN Institute.
The Junior Diplomat Program is our popular middle school course, designed for students ages 11-13 who are new to Model UN. This program is right for students who have no MUN experience, or who have attended a few conferences but want to improve their MUN skills in public speaking, research, resolution writing, and procedure.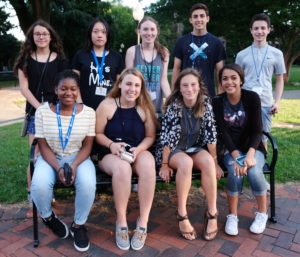 In the Junior Diplomat program, students gain the knowledge, skills, and confidence they need to be successful and have fun while participating in Model United Nations.
Students learn how countries work together at the UN to solve global problems. Every day, they practice skills in public speaking, negotiation, research, critical thinking, and leadership. Our MUN Mentors give each student one-on-one feedback and encouragement on their progress. Students participate in multiple Model UN simulations throughout the program, which ends with an all-day MUN conference.
By participating in MUN simulations, skill labs, and lectures, our students become more confident in their public speaking skills, in their understanding of global issues, and in themselves.
Program Features:
Daily Lessons (Topic Briefings, Research Skills, Negotiation, and more)

Model United Nations Simulations

Public Speaking Labs

Daily 1-on-1 Feedback with MUN Mentors

Icebreakers and Games

4th of July Celebration in Washington, D.C.

Insider Tour of Georgetown University

City Night exploration of Georgetown restaurants & waterfront park
Dates offered:
Jul
2
Mon
Junior Diplomat: Georgetown University
Housing, Tuition, and Meals: $1899
Additional Options:
Tuition and Lunch Only: $999
*Housing runs from July 1st to the 7th, the Sunday afternoon before the program to the Saturday morning after the Program. Housing is available on campus. Students will be supervised by Residential Counselors and nighttime activities will include a campus tour, scavenger hunts, organized games, and exploring the program city.
Pick Up / Drop Off at Dulles International Airport (IAD): $100 each way
Unaccompanied Minor Pick Up / Drop Off at Dulles International Airport (IAD): $125 each way
Pick Up/Drop Off at Reagan National Airport (DCA): $60 each way
Unaccompanied Minor Pick Up / Drop Off at Reagan National Airport (DCA): $85 each way
Pick Up / Drop Off at Union Station: $50 each way