Our Advisor Institute is a groundbreaking program to help teachers learn MUN, start new clubs, and lead their delegates to success!
---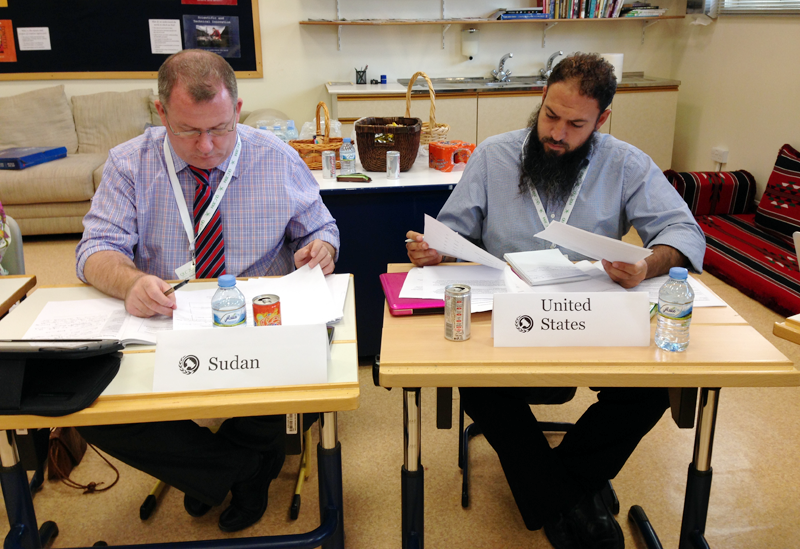 As an MUN Advisor, you want to see your students succeed.
You've seen what students can learn from Model UN.
You've seen them get up early on a weekend and dress up in suits to meet other students they've never met before and debate issues years beyond their age. You've seen really shy students get so nervous giving their first speech — and then how proud they feel when they finally sit down.
You've seen your students — some of whom you never expected would be into this — grow into enterprising young leaders.
You've seen them succeed and you want to do your best to help — but it's tough.
Most advisors have never participated in MUN themselves.
When your students ask you questions — say, about how to research a country's policy, or what an "unmoderated caucus" is, or whether their resolution looks right — sometimes it's hard to give the best answers. You wish you could see an example of what a "good" paper or speech or resolution looks like, and how to get your students to that level of MUN expertise.
Sometimes you might wonder, why do different conferences do things differently? Why are the topics and committees different? Why are the procedures and the terms different? It only makes it harder for both students and teachers to learn how to participate.
Most advisors could use some help — training, resources, and advice — so that they can better help their students, and empower their student leaders.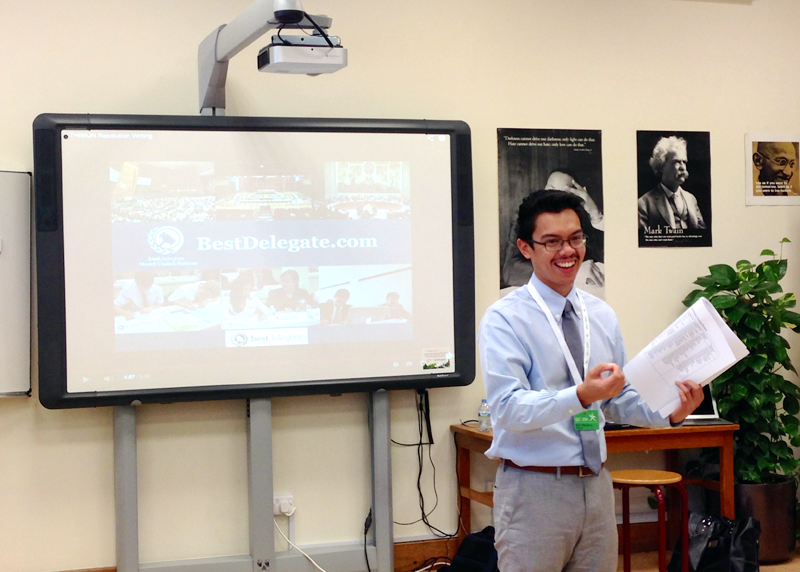 And that's why we created the Advisor Institute — to support teachers and mentors like you who are dedicated to their students and want to see them succeed at Model United Nations.
At the MUN Institute, we know how important an advisor is to a Model UN club. We've seen Model UN clubs become great because of the hard work of their students — and the thoughtful advisors who support them along the way. We've also seen Model UN clubs fall apart when their advisor leaves.
We know the difference an advisor can make in the lives of their students — because we all had advisors who had huge impact in our lives. We want to support MUN advisors like you all over the world, and help them help their students. We want you to empower your student leaders and create sustainable Model UN programs.
We are very proud to support advisors like you through the MUN Advisor Institute.
The Advisor Institute is Model United Nations professional development for educators. You will learn:
How Model UN benefits students, particularly their knowledge of global issues and development in 21st century skills, including research, public speaking, and critical thinking,
A step by step process for how to help your students prepare for Model UN conferences, including what students should prepare leading up to a conference and how you can evaluate their work,
How to help your students conduct research, including how to research a country's policy on a Model UN topic (even for less well known countries), what primary and secondary sources to look for, and the best online resources to use,
How to help your students write position papers, including sample position papers and how to assess position papers for quality,
How to help your students improve their confidence in public speaking, debate, and negotiation, including speaking exercises and frameworks,
How to help your students navigate MUN rules of procedure, including understanding why different conferences use different procedures,
How to use Model UN in the classroom, including how Model UN supports Common Core Standards and IB Learner Profile,
And much, much more.
You'll learn all of this and more from the Model UN experts: the Advisor Institute is led by Ryan Villanueva and Kevin Felix Chan, the co-founders of Best Delegate. Ryan and Kevin have 15+ years of Model UN experience and have worked with thousands of students and teachers around the world. Click here to learn more about the co-founders' story!
By attending the Advisor Institute, you will receive:
The MUN Advisor Guide, which is our textbook for how you can help your MUN club, including readings, worksheets, and lesson plans you can share with your students,
Exclusive access to the MUN Vault, our online digital library of MUN resources and tools that has everything you need to prepare for MUN conferences and run your own MUN simulations, including delegate preparation guides, topic background guides, rules of procedure, chairing scripts, placards, videos, and more!
Access to our Professional Learning Network, where you can share and learn best practices from other MUN advisors,
A Best Delegate T-shirt and pin,
A Certificate of Completion.
The Advisor Institute also features an optional Certification Exam. This exam is an opportunity for advisors to test their knowledge in best practices for preparing students for MUN conferences. Advisors who pass the exam receive Best Delegate MUN Advisor Certification.
Is the Advisor Institute right for you?
The Advisor Institute is designed for teachers and parents who advise Model UN programs and who have little to no prior experience in Model UN.
Must be a teacher or studying to become a teacher
Must be involved in advising or starting an MUN club
No prior MUN experience required
Must be at least 21 years old
This program is recommended for teachers with less than 4 years of MUN experience.
Dates & Locations:
There are no upcoming events to display at this time.
Ready to Get Started?
Register Now!