Model United Nations offers invaluable opportunities for students to explore global issues, meet delegates from all over the world, and develop public speaking, negotiation, and leadership skills. I attended my first MUN conference as a freshman in high school, and I was immediately hooked. The following summer, I participated in the Diplomat Program of the MUN Institute, which was an extremely influential experience. After another school year of numerous conferences, I began to explore the world of Crisis committees. I enrolled in the MUNI Crisis Program, which was filled with many national security debates and exciting crisis simulations. Here are the things that I miss about my MUNI experiences:
1) Lessons and activities
The lessons and activities at MUNI were fun, educational, and memorable. Through impromptu speaking exercises, mini-debates, and conference simulations, I developed skills and confidence as a MUN delegate. During one of my favorite activities, delegates were each given three random words, and they had to deliver an impromptu speech related to the crisis topic, ISIS in Libya. At first, the task was intimidating, but it helped me gain confidence in impromptu public speaking….it was fun, as well! All of the lessons I learned at MUNI allowed me to grow as a delegate, and this aspect of the program made the experience truly influential.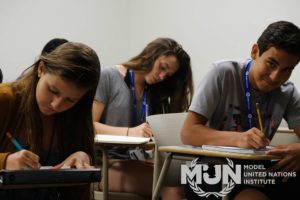 2) The MUN Mentors
At MUNI, campers learn from MUN Mentors, who are accomplished delegates and student leaders from colleges and universities around the world. The MUN Mentors are some of the most inspiring people I've ever met, and they offered valuable lessons MUN and public speaking skills. In addition, the MUN Mentors provided advice about college applications and college-level MUN, and it was great to hear about all of their experiences.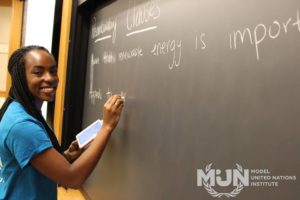 3) The People
What I miss the most about MUNI is getting to know all of the amazing people I met throughout the week. At MUNI, I was exposed to a diversity of individuals with a shared eagerness to learn about global issues. As someone from a relatively small town, MUNI was an incredible opportunity to engage with students from other countries and to expand my own perspectives. The friends I met at MUNI inspire me to take continuously seek out new ideas and experiences, and I could not have asked to meet a better group of people. I am still close with many of my MUNI friends, and I look forward to many reunions!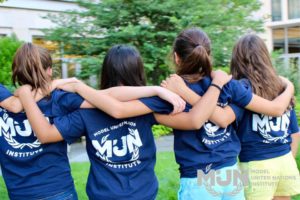 My experiences at MUNI encouraged me to pursue MUN and to expand my understanding of global issues. MUNI's community of delegates and young leaders from all around the world inspires me to engage with many different individuals and opinions, and to contribute to global dialogue and advocacy. As I begin to make choices about college and my future, I can say definitively that MUN has shaped my academic and career goals. MUNI has allowed me to discover my true passions and to be a part of a global community of young leaders.