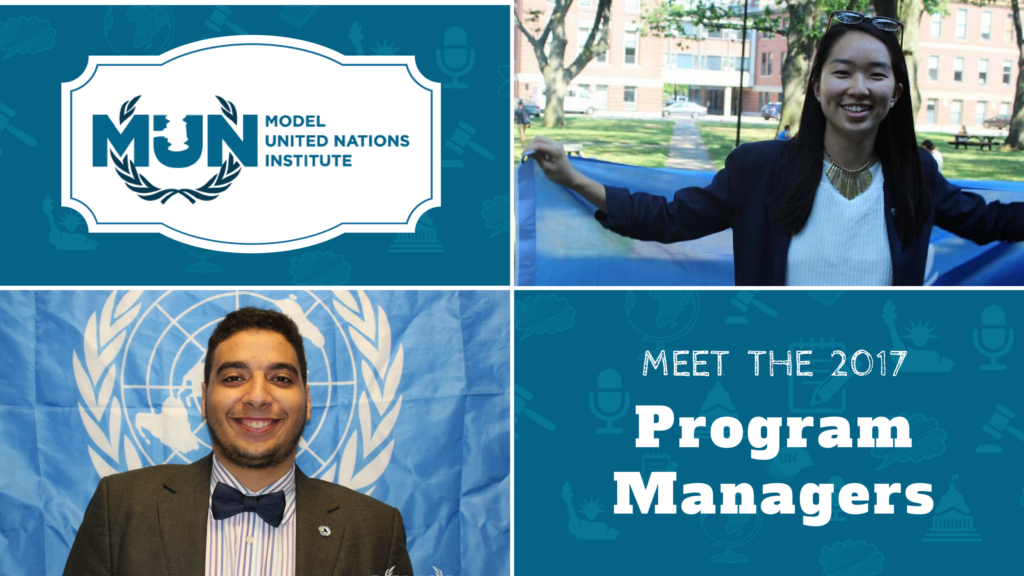 The MUN Institute is a huge endeavor – so many people put in hard work all year round so that our students have unforgettable experiences each summer. The MUN Institute Program Managers are especially dedicated – they serve as the directors for each program and location, and they have been trained to ensure that the MUN Institute is a safe, fun, and educational environment for every student. They work in conjunction with the rest of our staff, including the Program Directors, MUN Mentors, and Residential Counselors.
First up is Ibrahim El-Kazaz, an Egyptian American currently living in Istanbul, Turkey. Over the past 6 years, he has attended various Model UN Simulations across the globe and has experience with a number of different MUN formats including THIMUN, North American, and UN4MUN procedures. First trained by Best Delegate in 2014, Ibrahim has gone on to teach Model UN in India and South Korea.
In February of this year,
Ibrahim served as the Secretary-General of the WFUNA International Model United Nations (WIMUN) conference
, for which over 1,000 came to New York City to discuss global issues. The Secretary-General of a conference is in charge of managing staff, coordinating logistics, and ensuring that all delegates have a safe and unforgettable educational experience.
Ibrahim also has extensive experience teaching Model UN in the United States. He served as a MUN Mentor at the MUN Institute during the summer of 2016, and is greatly looking forward to serving as a Program Manager this summer. In addition, Ibrahim also served as the head of MUN Training in his university in Istanbul, and worked as the Assistant Director of THIMUN Online MUN for three years.
Regarding how MUN has shaped Ibrahim's life, he said that, "MUN has given me a lot of self confidence, and helped me discover that I want to live a fulfilling life filled with travel and helping others. Teaching MUN helped me realize I want to teach in the future as well. And traveling and teaching MUN has meant that I've met people around the world that have opened my eyes and allowed me to see a lot of the world. I'm always grateful to everything MUN has taught me as well as all of the opportunities it has offered me over the years."
Next up is Lala Kumakura, who has lived in many countries including Brazil and Japan, but currently resides in New York City. Despite moving around frequently, one thing has remained constant in her life: Model UN. Lala has founded and led Model UN programs for both the high school and collegiate level in different countries. She has over 8 years of MUN leadership experience, during which she served as MUN Club President at Fordham University and Director-General of FORMUNC.
Currently,
Lala is serving as an NGO Youth Representative to the United Nations
, where she regularly attends high-level UN briefings and events, take part in planning meetings with other youth representatives, and strengthens relationships between the UN and the greater New York City community.
Lala is also a Team Director for the recently-established non-profit organization World for Refugees
, which is a youth-led, refugee-led campaign dedicated to raising awareness for the global refugee crisis throughout the world and providing a platform for refugees to share their stories.
Lala served as a MUN Mentor for the 2016 MUN Institute, and has served as the Editor of MUNI Alumni & Community on Best Delegate's Media Team since last fall. A proud alumna of the MUN Institute herself, Lala is very much looking forward to being a Program Manager at the program this summer.
On Lala's Model UN experience, she says that, "Especially with the MUN Institute, Model UN has helped me gain confidence and learn about leadership. Whether I am presenting a project or interning at the UN Headquarters, I have been able to apply Model UN skills in ways that I never would have imagined. I am thrilled to work with our talented staff to create a fun and enriching experience for our students!"