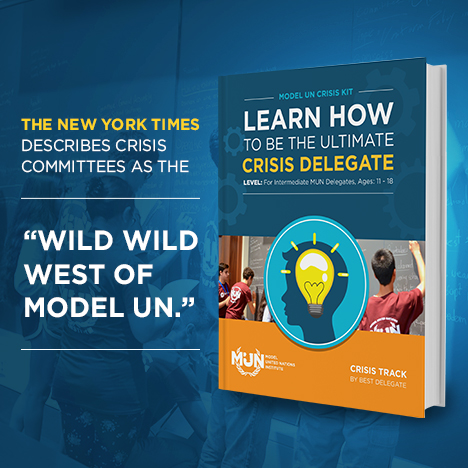 Here at the MUN Institute and Best Delegate, we strive to offer amazing resources for Model United Nations delegates, educators, and parents. We want MUN to be accessible to every student around the world, and it's our mission to achieve that goal.
In the next two weeks, we're re-launching our free, downloadable guides to better serve the MUN community. These guides are chock full of great information for members of the community – we've got guides for beginners, intermediate delegates, advanced delegates, and even parents!
Today, we're launching our Crisis Guide for Advanced MUN Delegates. After reading this guide, any student will be able to excel in the dynamic world of crisis committees. Readers will learn how to think on their feet and succeed in fast-paced crisis situations, how to write crisis notes and press releases, how to research obscure committee roles and facts, and so much more!

Click here to get your free copy of the Crisis Guide for Advanced MUN Delegates!