Model United Nations is a huge part of the lives of thousands of high school students. For many, MUN is where they overcame their fears, developed core friendships, and learned about the complicated issues that surround our world. Oftentimes, the thought of your high school MUN experience ending can be overwhelming, even scary. In high school you can always look forward to the next conference or the following school year, but what can you do when there is no "next conference"?
Well, actually… a whole lot of stuff.
Internships
Model United Nations is exactly what its name entails, a model or simulation of the United Nations. However, as students move on to college the thought of working in the actual UN isn't as unrealistic as it used to be. The UN has a great internship programmes for university students. Although the majority of these internships ask for graduate students or those who are in their final year of a bachelor's degree, you should still keep in mind these programmes as you enter college. Additionally, the UN is not the only place where students who did MUN in high school will be interested in working. Volunteering or interning at a non-governmental organization (NGO) is a great option to put your interest towards global issues to work. Is there a certain recurring topic you were passionate about while doing MUN? Maybe an NGO you kept hearing about throughout draft resolutions? Investigating about possible internships and volunteer opportunities for college students is just the beginning, and you never know what you can do until you go look for yourself. It may seem far-fetched to get internships at the organizations you spent years debating about, but it's not as impossible as you think.
If you're interested in learning more about internships, check out these other articles:
Chairing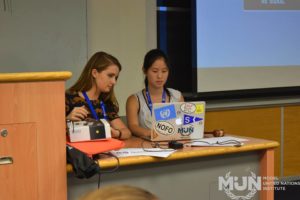 Chairing a committee isn't easy. Imagine having a room full of teenagers who have to debate for long hours in formal wear and you being the reigning body of it. Intimidating, I know. Some students have the opportunity to chair conferences while being in high school, but many don't. Even if your school doesn't have its own simulation, you can still be a chair at another conference since many accept applications from various institutions and different countries. Chairing requires quality MUN because you and your partner are the ones running the show for once. Being a chair changes your perspective of a committee– you see the room as a whole rather than an assortment of potential allies or enemies. Not only that, but also by simply sitting in front of the committee and watching the delegates, you'll earn a sense of maturity. You'll start to notice little things like which delegate hesitated to raise their placard, who scolded their co-delegate after messing up in a speech, or which country kept changing their policy just to gain more votes. This experience will definitely help you gain a better understanding of what MUN is, and how you can help others improve. As a delegate, you wish for your bloc to succeed. As a chair, you hope your entire committee excels.
Want to be a chair in college? You might want to read this:
Organizing Conferences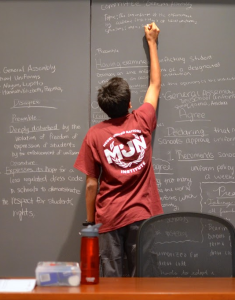 Whether it's a local or a large-scale international event, organizing an MUN simulation is time-consuming, tiring, and a great responsibility. Yet, it is one hundred percent worth it. By deciding to help organizing a conference, either by being staff or even part of the secretariat, you are committing yourself to an unforgettable year-long experience. All the negotiation and leadership skills you learned through MUN are put to the test. How are you gonna get enough funds to cover all the expenses? Which topics will be discussed at the simulation? What are you going to do if your keynote speaker cancels? Conference organizing is a series of mini-crises that can only be solved through teamwork. Thankfully, that is why everyone has a designated position when organizing an MUN simulation. Now, is the time to understand your strengths and weaknesses. For example, if you're good at negotiating and talking to people, you may consider applying for a more administrative-oriented position. Finding what role is right for you is extremely important. If you're worried about your school not organizing its own conference, don't be. Just like chairing positions, many universities open applications for their secretariat roles to students in other schools. Additionally, if you find a group of passionate students and are willing to work hard, you can even start your own conference! The possibilities are endless.
Here are some articles about organizing conferences you might enjoy:
Teaching MUN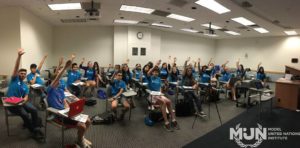 High school students tend to underestimate the lessons they acquired through MUN. Just because writing an informative position paper and delivering a powerful speech has become second nature to you, it doesn't mean it's that easy for everyone. Or at least, not yet. Oftentimes, when people hear the suggestion of them teaching something, they say: "Me? Yeah, right." However, the question should be "why not?" Look, you don't have to directly go to your high school after graduating and ask if you can be an advisor (although, you can if you want to). Try to start with younger students, like middle schoolers. If there's already an MUN program at a nearby school, ask if you can be a mentor. No MUN? Start a program then. Passing on your knowledge about something you're passionate about to another generation is an extremely rewarding experience. Finally, another thing you could consider is applying for a summer fellowship at the MUN Institute. Whether you are interest in applying as a Residential Counselor, English Exchange staff, or MUN Mentor, being part of the MUN Institute staff is a great opportunity you should consider taking in college.
Want to learn more about teaching MUN or applying to the MUN Institute? This might interest you:
It is completely understandable to not want to face the bittersweet thought of high school MUN ending. However, your entire MUN career isn't over when you finish high school, unless you want it to be. As you already saw, there are lots of other opportunities you can take besides being a delegate at college-level conferences. Hopefully, now you have a better perspective of all the things awaiting you after your last high school MUN simulation.
Get ready to use your MUN skills in a new way!