One of the many things that make the MUN Institute special is its wonderful alumni network. Throughout each program, students get to make new friends and experience unforgettable moments. We asked our alumni about their favorite memories while being at the MUN Institute, and were very pleased with their responses. From attempting to take over the Suez Canal during a crisis simulation to simply hanging out with fellow students, these moments have left a lasting impact on our alumni.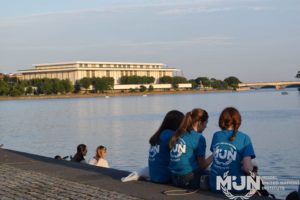 An alumna of ours, Maria Leon, told us a fun story about her experience at the MUN Institute two summers ago. She and her fellow campers were really looking forward to going out for ice cream off-campus after an intense MUN practice simulation. However, due to extreme rain, they weren't able to go out. She and her friends were devastated at first because the heavy weather had ruined their night out. However, much to their surprise, their residential counselors paraded down to the dorm lounge an hour later with multiple gallons of ice cream. Instead of going out for ice cream, their MUN Mentors had brought the ice cream to them! The dorm became the stage for a perfect night-in, with blankets and pillows scattered across sofas, an ice cream buffet, and many snacks at their disposal. Students played fun games and even made up some of their own! As students gathered around with their pillows to watch a movie, the dorm lounge became a movie theatre. Although it began as a disaster, it quickly became one of the most fun nights. This was definitely one of the most memorable moments from that summer.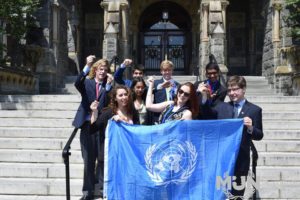 One of the most popular programs at the MUN Institute is the Crisis program. For many students who attend the program, it is the first time they experience crisis and initially, it can be a bit confusing. Lara Gabrie was a student at the 2016 Harvard Crisis program. When we asked her about her favorite memory, she said it was definitely the moment she finally understood crisis at its fullest. Throughout the week, she grew as a delegate and showcased her new skills at the final simulation. Not only did she gain new skills, but also she had fun learning and working with students from different backgrounds. Stories of improvement and growth are definitely some of our favorites!
Another story from one of the Crisis programs comes from Jonah Miller. He narrated a funny story that happened during a lesson at the Institute. The activity was to ask the right questions during crisis updates to learn how to get as much information as possible. To show the students the importance of getting correct information, the MUN Mentors acted out a scene. One of them played a news reporter, while the other represented the witness of an explosion at an oil refinery in the Mississippi River. However, the witness kept saying conflicting information and rambled on about his life every time he answered a question. Starstruck by the cameras and being on live television, he shouted "I'M JOHNSON JOHNSON AND I SAW A BIG EXPLOSION!", making the students burst out laughing. Thankfully, they deciphered the key detail they needed from the witness in order to move forward with the crisis. Fun exercises like this one are common throughout the crisis programs, making many of the lessons memorable for students.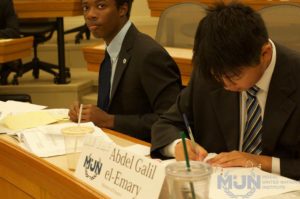 Andrew Xu, another Crisis program alumnus said that his favorite memory from the MUN Institute was the final simulation. In the final simulation, Andrew represented Abdel Galil el-Emary, the Egyptian Minister of Finance during the Suez Canal Crisis. He talked about how he took an unconventional approach to plan out his crisis arc the night before the simulation: Snapchat. The following day, he got the other Arabian countries to join the Middle East Trade Alliance and made them form a defensive pack. After that, Andrew knew he needed the support of larger nations like the United States and Great Britain in order to help his cabinet become victorious. Fortunately, Andrew was able to accomplish this and got many other countries to support his side during the simulation. He mentioned that this was achieved by applying all the knowledge he had gotten throughout that week's crisis lessons and the guidance of his MUN Mentors.
The next memory comes from Mauricio Garcia Gojon who participated in the Crisis program in 2015. He was in the Turkish Cabinet, representing the Minister of the Interior while trying to combat the Islamic State. For him, one of the most interesting aspects of his character were all the subtopics he had to deal with. One of them was Kurdish uprisings. One of his friends, who was the Minister of Agriculture, had mentioned a fake Kurdish attack on a NATO base. However, when everybody realized that there was no attack on a NATO base, it was revealed that his friend was actually representing a Kurdish Agent. Mauricio says that, "It is important to be aware of what is going on in the committee and to investigate even those who you trust the most." Plot twists during a crisis simulation are crucial for keeping the pace of the committee on edge and teaching students lessons, such as the one mentioned by Mauricio.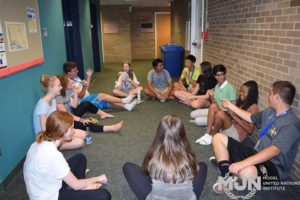 Finally, one of our sweetest responses came from Sofia Andrade, a student who went to the MUN Institute this past summer. She said:
"I think my favorite part of my summer at MUNI was definitely making incredible friends. It was the late nights where we would gather and just talk about anything that came to mind, and subsequently the early breakfasts where we would ramble just as much. Conversation were a perfect balance between randomly selected topics verging on ridiculousness and mind boggling discussions regarding any and every sociopolitical aspect of the world we live in. Because of this, my favorite part of the MUN Institute was the people. They made me laugh, they made me sing along to their songs, they made appear in their videos, but more importantly they made me feel comfortable, welcome, and happy."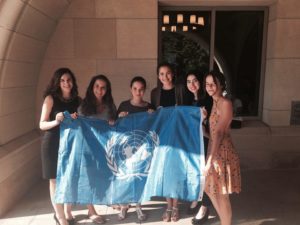 Everyone's experience at the MUN Institute is unique, but passion for MUN, openness of mind, and willingness to have fun, guide our alumni to live equally memorable moments. We thank our students for sharing their experiences and hope to create more for summers to come.
Want to join the MUN Institute? Check out our 2017 programs!
Written by: Kristen Corlay and Alexandros Economou for Best Delegate