Hello, fellow delegates!
My name is Lala Kumakura and I feel humbled and honored for this opportunity to serve as Editor of Model United Nations Institute Alumni. I am ecstatic to be working with this incredible team!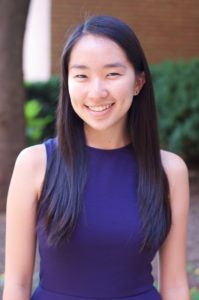 To introduce myself, I am a sophomore at Fordham University, majoring in International Studies and double minoring in International Humanitarian Affairs and Spanish. I began Model UN when I started middle school in Japan and my passion for it has only developed since. Throughout high school and college thus far, I have been involved in founding and leading MUN programs. I attended the MUN Institute in 2013 and returned as a Diplomacy Fellow in 2016, teaching the Secretary-General program, Diplomat program, and the Junior Diplomat program at Georgetown University, Columbia University, and Harvard University. Currently in my seventh year of Model UN, I am the president of Fordham Model UN and Director General of Fordham's upcoming high school conference. Also, I am a NGO Youth Representative to the United Nations, participating in high-level briefings and events.
Upon completion of the MUN Institute, delegates become a part of a supportive, welcoming alumni community! Throughout the year, the MUN Institute Alumni team will be providing opportunities for alumni to stay involved with the MUN Institute and Best Delegate through media content, in-conference meetups, and more. We are also very excited to work with the newly introduced platform, the MUN Vault, to provide resources for alumni to help us spread MUN worldwide. Most importantly, the MUN Institute Alumni team is working to continue building a passionate MUN community because this is what makes the MUN Institute like no other.
We value our alumni's participation so please stay in contact with us! If you have any questions, please do not hesitate to contact me at lala@bestdelegate.com
Now, please allow me to introduce the amazing and talented team!
Kristen Corlay – Media Associate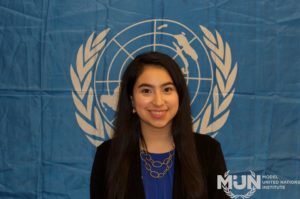 Kristen is a freshman at San Roberto International School in Monterrey, México. This will be her second year as a part of the MUN Institute Alumni team. Kristen has attended the MUN Institute for the past two summers and claims that it has truly been a life-changing experience. As she is currently the Director-General for Instituto San Roberto Model United Nations (ISRMUN), MUN has been a major part of her daily life. When she isn't busy MUNing, she enjoys dancing, playing the piano, and listening to music, especially to the Hamilton soundtrack. Kristen is looking forward to creating great content and producing the MUN Institute video this year!
Alexandros Economou – Media Associate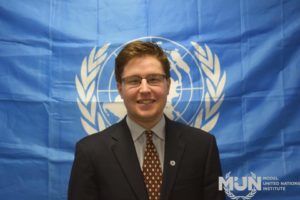 Alexandros is a junior at Glenbrook South High School in Glenview, IL. He has previously attended the Ambassador, Crisis, and Secretary General programs at the MUN Institute. Alexandros is on the executive board of his school's club as the Publicity Chair and also serves as an Assistant Crisis Director at his school's conference, GBSMUN. In addition, he is chairing the United Nations Environment Programme (UNEP) committee in the largest middle school conference in the Midwest called NIMUN. Outside of MUN, Alexandros is a member of the Glenbrook Symphony Orchestra, a board member of his school's chapter of Amnesty International, and a member in the Orpheus Hellenic Folklore Society in Chicago where he participates in Greek dance.
Jonah Miller – Media Associate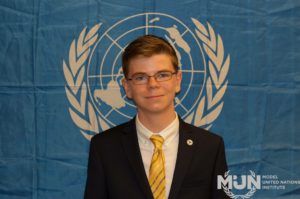 Jonah is a high school freshman from New Jersey and a new member of Best Delegate's media team. His first MUN experience was at Georgetown University, where he attended the MUN Institute in 2015. Inspired by the people he met and experience he had, Jonah returned to the MUN Institute in 2016 for the Crisis program at Harvard. He has attended conferences in South Jersey and Philadelphia as a part of his school's MUN team and as an independent delegate. In his two years of MUN experience, Jonah gained a variety of new skills, ranging from public speaking to listing every ongoing UN peacekeeping operation. His hobbies include rowing, reading, and secretly plotting to conquer the world.
Miles Nabritt – Media Associate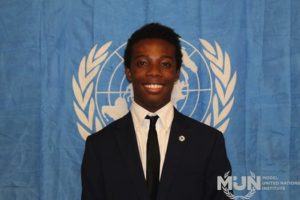 Miles is thrilled to return to Best Delegate for his second year as a part of the MUN Institute Alumni team. He is currently leading his MUN club at the Brooklyn Friends School. Miles is considered as a MUN Institute expert, attending the Diplomat, Ambassador, Crisis, and Secretary General programs in the past three years. Miles cherishes the strong bond he has had with MUNI Alumni over the years. Since many MUN Institute Alumni apply what they learned and develop into inspirational leaders in their communities, he believes that this makes the MUN Institute very special.  Miles is looking forward to creating and maintaining a connection throughout the MUN Institute community through meet-ups at conferences, media outreach, and more!