What gives the MUN Institute its heartbeat? Is it the teachings that lead to the continued successes of students who applied them in the real world? Is it the expertise they bring with them, or even the innovation they leave behind? Absolutely. But, a closer look at the MUN Institute will show you that the constant behind it all is surely one thing: the people.
The summer of 2016 will be my third summer spent with the MUN Institute; I'll have seen it as a student, as a diplomacy fellow (one of the college aged mentors), and now as the President of the Alumni Board. And, I've found that the reason I keep coming back is incontestably for the people.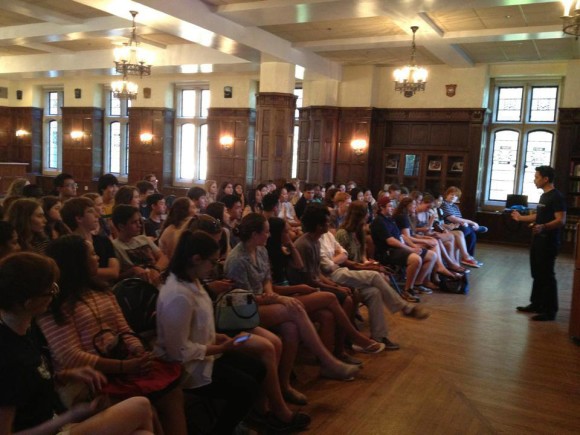 One of these people, is Ryan Villanueva, Co-Founder and Executive Director of the MUN Institute. I've been a loyal disciple to his Socratic MUN pedagogy since the moment I first sat down with him, because he was the first person to teach me to do Model UN the right way. You can see that powerful moment captured in this photo, where I, with my backwards cap and all blue get-up, sat in the front row to listen to Ryan open up the Georgetown Flagship program in the summer of 2013.
Ryan explained that, "Model UN literally gave me the skills, and the confidence, to get into college; then learn how to manage teams, and how to lead, and that helped me launch my career after college. I think everybody who goes through Model UN and takes it seriously, realizes how much this activity meant to you, how much it did for you, and the environment and the community it created for you to achieve certain things in your life. I teach Model UN because I want to share that. I honestly see Model UN as my life's work, and doing what I can to improve the activity, and share it with other people so they can have this transformative experience, is what drives me. It's a vision that I call MUN for All. MUN is such a powerful and transformative activity, that every student in the world should have this opportunity. I think that Model UN should be in every country, available in every school, and accessible to every student, because it's just that powerful of an activity."
Ryan and the entire MUN Institute Staff bring passion, precision, and innovative spirit to the classroom. The staff create a sense of community and an insatiable desire to learn.
This culminates to what I now know as the MUN Institute's core values. Passion for Model UN, bringing out the best in each other, being open to feedback, and professionalism. This is the Modus Operandi for the MUN Institute, and the environment in which everyone who is ever a student here will have the opportunity to learn Model UN within. It is both the vehicle of change for our beloved activity, and the change itself.
Ryan elaborates on this environment created by the MUN Institute staff, saying, "When I think about my goals for the staff, and what I want the staff experience to be, I really do believe in Best Delegate's culture, and what we refer to as core values. I want the staff to live out those values through the summer, and in the process, I hope it will make them better teachers, but also bring them closer together as a team, through sharing these values. And, at the end of it all, I think it will make the program that much better too. When I was in college, and starting my career, I didn't realize how important this was, but now as executive director, and as leader of a team and within community, you very much realize the importance of core values. They aren't just words you write down, you frankly have to live them, you recruit by them, and you hire, and you train by them. And these four, for us as a team, have proven very key."
What impresses me the most about Ryan in his interaction with Model UN as a whole is his dedication to not just give back to an activity from which he received so much, but to ameliorate both local and global Model UN. His insatiable desire to teach Model UN the right way, and passion for the activity itself and it's real-word applicability, have rubbed off on the staff at the MUN Institute, ultimately leading to the learning environment the MUN Institute is famous for upholding.
The perpetual innovation in Model UN that can only be found at the MUN Institute is best described by Ryan himself. He notes, "We're really trying to push this activity forward. It starts from understanding; there's not one right way to do it. From the beginning of Best Delegate's history, we've tried to visit different conferences, and meet different clubs and teams, to primarily understand, what is everybody doing? Then, the next step is to identify the themes to how people are teaching and approaching Model UN, and how we could look at Model UN in a single framework. For everybody else that now joins into Model UN, they should be aware that there's this spectrum, and there are choices you can make, and most importantly, Model UN can serve your educational objectives. Before Best Delegate, no one's tried looking at MUN this way. By making this perspective possible, so other people can look at Model UN holistically, I think it helps improve the activity, and now enables us to look at MUN critically. What should MUN be teaching? What are the best practices for teaching MUN? It's part of a thesis that's been brewing ever since we've started Best Delegate."
As increasing numbers of alumni from the MUN Institute graduate high school, the number of acceptances to the world's best universities of these alumni increases at pace, and this is no coincidence. The MUN Institute has consistently held it's central focus on teaching key skills such as public speaking, research & writing, and diplomacy. What's taught at the MUN Institute isn't applicable to one exclusive domain, and that's shown best by the diversity of college acceptances throughout our alumni pool. Ryan analyzes this trend, saying, "The goal [of the MUN Institute] is education. The goal can't be MUN for MUN's sake, it must serve a larger purpose. Our core focus is MUN, but, we're about education through Model UN. Because we're passionate about this activity, and we know how powerful it can be, we want others to experience it too. That brings in all these schools and all these students, who've never done or never even thought of Model UN before, and they're able to enter that world through this curated professional experience and training, and go back to their schools and start Model UN programs for their school districts, or even a whole part of the country. What you literally have at the MUN Institute is some of the best MUN student leaders, and the best MUN expertise, and you're putting us in a room with a hundred students who've never done MUN before (or are just starting) and then letting that magic happen. This is central to the MUN Institute."
"Part of the job is setting a vision for [each] student. You layout this vision for them, and in that week, you need to inspire them to believe that this is possible. You'll turn to a student who's never done MUN before, and say, "you can do this too, and we will help you." And over the course of that week you do your best to give them the skills, the knowledge, and the training, so that when they leave, they can do it on their own, and they can slowly make their way through that vision, with you on the sidelines cheering them on. That's what we're trying to create through Model UN."
Ryan's permeating positive affects that ripple through the MUN Institute are best exemplified in his goals for this coming summer. What he aims for, and what he achieves with Model UN through the MUN Institute is nothing short of revolutionary. Ryan explained his goals for the summer through the medium of his work in the lead-up, explaining,
"Right now I'm in charge of designing the curriculum for the summer, and a big thing that I want is for the staff to not only teach it successfully, and achieve certain educational objectives, but I want them to be able to look at this curriculum and say 'Wow, where has this been my whole MUN career?' Not only is this going to be the easiest, most efficient way to teach students Model UN, and the most effective way to help experienced students get better at MUN, but I would love to hear from our Diplomacy Fellows something like "I'm going to be able to use this to help myself become a better Model UN delegate, and share this with my team". My goals for the summer are especially focused on the Advisors Institute, because it's one of the most groundbreaking things we do at the MUN Institute. We not only train hundreds of students, but we train teachers. If you're talking about scale, and impact, and for MUN for All, you need to be able to support teachers. So we're going to teach teachers MUN, and I want them to look and this and say, this is what my students need, and with this material, we will start an MUN program. Beyond that, it's goals for the entire student experience, I want everyone to walk away happy."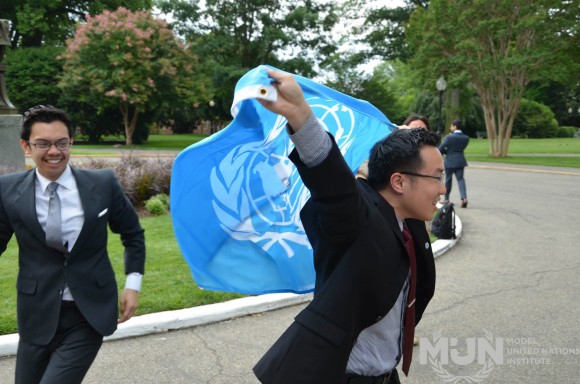 People like Ryan are the heartbeat for the MUN Institute. His character, winning hand-diamond, and overall amiability and professionalism are infectious to both staff and students at the MUN Institute, and help everyone to achieve his vision of living out our core values while we learn and share together. 
For the time being, Ryan's goals are for an unforgettable staff and student experience this coming summer, that leaves students with a chance to achieve all of their educational objectives through Model UN. Ryan has never been someone to look exclusively in the short-term, though, and through his work with the MUN Institute, he's one step closer to achieving the life-long dream that is MUN for All.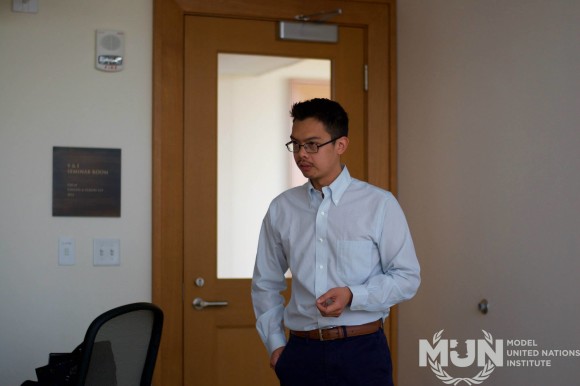 "What would it take to realize this vision? This is a 15 to 30 year idea, and you have to plan for this over decades. It even ties in to global educational goals; I look at the SDG's over the next 15 years to be accomplished by 2030, and the goals of education are related not just to ensuring that children have access to primary and secondary education, and that it is of quality, but that it teaches civic engagement, that it teaches responsibility and tolerance, and to be educated about global problems, and to be inspired to one day solve them. Model UN is couched within a global education movement, that is about improving access to education and the quality of education everywhere, throughout the United States, and the World. When I look at Model UN that way, that's what drives me. This will take the rest of my life to make that vision a reality. I don't know if I'm going to be the one teaching it for the rest of my life, but I know that a significant part of my life will involve this activity, making it better, and making it more accessible for people all over the world." – Co-Founder & Executive Director of the MUN Institute, Ryan Villanueva
Article by Diplomacy Fellow, and President of the Alumni Board, Steve Tempesta