"IDEA Public Schools are not like regular schools. IDEA is a school that gives you a chance to break the stereotypes of minorities not going to college and not graduating high school. It's a place where dreams actually come true," according to Mirannda Gonzales a 12th grade student at IDEA San Benito in South Texas.  
The Model United Nations Institute by Best Delegate empowers students with a desire to participate in Model UN and transforms today's students into tomorrow's leaders. Through a ground-breaking partnership forged with the IDEA Public Schools, over 100 students from 14 IDEA Schools attended MUN Institute programs across the country during summer 2015 thanks to federal funding aimed at helping students succeed in college.
A network of 44 public charter schools founded in 2000 across South Texas, the IDEA Public Schools support the 24,000 kids that attend them.  IDEA Public Schools consistently achieve their goal of sending 100% of their graduating classes to universities of their choice.  IDEA Public Schools also has a college completion rate nearly six times the national average.
"The majority of IDEA schools are located in the Rio Grande Valley, an underrepresented community with a huge Latino influence due to the close proximity to Mexican border. Because of this, we experience poverty, insecurity and low graduation rates. We are breaking stereotypes and prejudice everyday," explained Alejandra Corbella a 12th grade student at  IDEA Mission who attended the MUN Institute at Columbia and has been accepted to Tufts University for Fall 2016.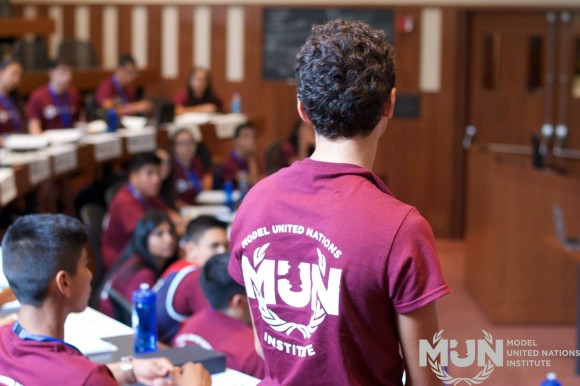 Model UN prepares students for the full range of collegiate and professional situations bound to present themselves in the future. It is the only academic activity that fully incorporates research, public speaking, negotiation, social dynamics, and leadership building, all while expanding the worldview of the participants.  For a school district aiming to prepare every student for college, and for life, Model UN is a match made in heaven.  
"IDEA sent almost a dozen teachers, and over 100 students to the Model United Nations Institute in hopes of making Model UN a staple for the district," says Karthik Ilakkuvan, Pre-Calculus teacher at IDEA Mission. His school has been the district trendsetter in Model United Nations, whose team, now celebrating its five-year anniversary, has seen consistent success in college among the students who participated, including Rebecca Hernandez who attended the MUN Institute at Georgetown and now attends Harvard University. "Model UN students apply to and have been accepted to higher tier schools, and are on track to graduate in four years."
IDEA Quest hosted the first Model UN simulation in September, and the cross-district influence it had on students was immediate, and unavoidable. "Students were excited about international affairs, talking about food security in developing countries, even during lunch period, and came up with proactive solutions that everyone agreed on," says Karthik. A second mini-simulation was hosted in October at IDEA San Benito, and a third at IDEA Quest. This all led up to the first two-day conference – STIMUN 1.
IDEA Mission College Prep hosted four schools from all across the district at the inaugural South Texas Invitational Model United Nations conference. Over 70 delegates attended the conference. As we've seen become routine with Model UN conferences, Karthik says "students were pushed to represent viewpoints outside their own, and, in the process, forced to acknowledge and understand other ideas."
"Model UN has such an immensely positive impact on our student body, and we're so excited to continue it forward. Through it all, [the students] had smiles on their faces and excitement, enthusiasm, and passion in their demeanor. We have two more mini-simulations and we hope to have one final big conference the last week of school at South Padre Island. We're working on spreading it to even more schools in the district!", finished Karthik.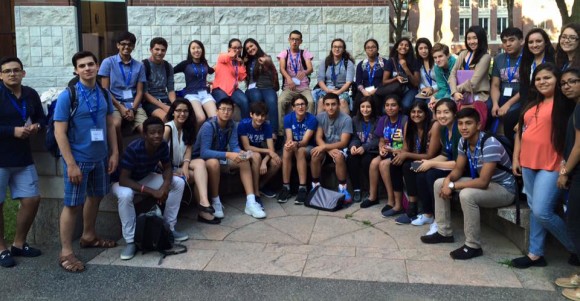 IDEA Public School students are so much more than just young MUNers. They will go on to be future leaders in public service and private enterprise; some will leave the Rio Grande Valley and bring their gift to all corners of the world they can reach, and some will come home to give back to the same community they lifted them up in the first place.
The MUN Institute has worked with IDEA students of all ages to empower students to succeed in college and beyond. "At IDEA Public Schools we want our students to attend the best colleges they can afford. We aim to teach them about the schools that have the best affordability, graduation rates, and post graduate acceptance rates," explained Yanira Aguilar the Manager of College Success at IDEA Public Schools. Thanks to Gear Up and Race To The Top federal funding the MUN Institute in partnership with IDEA Public Schools will be hosting its first ever MUN Institute at Austin College. Yanira strongly believes that, "Austin College is a school that changes lives and we are really excited about this opportunity for our students thanks to the MUN Institute."
But don't take our word for it! We caught up with some of the IDEA students who attended the MUN Institute this summer, and asked them about MUNI, college, and the IDEA schools themselves.
How has MUNI and Model United Nations help to prepare you for college?
Danielle Susa, 12th grade, IDEA San Benito, MUNI Harvard Program: "Prior to attending MUNI, I had absolutely zero experience with Model United Nations. I had heard about it online, but the majority of schools in our district lacked a team (ours included). Now I'm certain that I want to continue doing MUN in college. Furthermore, I had gained a plethora of confidence while working with our groups. Instead of shaking with fear while delivering speeches, I relish the audience's attention."
Mirannda Gonzales, 12th grade, IDEA San Benito, MUNI Harvard program: "When attending Model United Nations, I was terrified because the place we come from is secluded and not very diverse. The program itself attracts kids from around the world, so when attending you might me people from France, Bolivia, and India. In college of course there will be diversity to the max but at this program it is like you get a taste of what your future peers might be like. I also learned how to be a team with people who might have different points of view and how to patient, that you need to believe in yourself".
Dania Urena, 12th grade, IDEA Frontier, MUNI Harvard program: "MUNI has prepared me for college by giving me a voice. Before MUNI I was afraid to voice my opinion and speak out, now I do just that. Additionally, MUNI has taught me how to improve my research and public speaking skills. As a whole, these are skills that will definitely be useful for me to succeed in not just college, but my future career and life."
What skills did you take back to your school after MUNI?
Danielle: "Right after departing from Boston, we began discussing the formation of our own club. Thanks to the lessons we had about organization, we were able to establish ourselves fairly quickly. Recruitment was a breeze, and everyone became accustomed to how MUN worked. Our new research skills also gave us a huge boost in our other classes."
Alejandra Corbella, 12th grade, IDEA Mission, MUNI Columbia Program: "I will definitely say that leadership was the most important, because I learned more about how to be a better leader and teach others in my school where MUN is not very prominent. I received a lot of tips from the staff about how to make a team more successful and create our own small conferences. This year, IDEA has taken the step of making small conferences for the entire IDEA district and it has been a very rewarding experience. My school was first to make STIMUN and thanks to MUNI, many of the delegates from the summer were here, and well prepared. Lastly, I took with me an amazing experience, and unforgettable friendships forged by our love of foreign affairs and Model UN."
How did MUN help your with your school year?
Alejandra: "As someone whose first language is not English, I always had problems speaking out or writing my ideas effectively, but MUNI gave me confidence and helped me a lot in my writing and research skills. MUNI taught me how to develop my ideas and be more active not only in the classroom but in my community. Model UN opened my eyes about issues that affect my community and it allowed me to see ways to help. MUNI taught me about leadership and it allowed me to be a better leader in my team. Lastly, I think it really helped me with my college applications because I always had something to say about a club or activity that makes me passionate. I become more comfortable with my writing and when I had college interviews, I could talk with confidence and truly express what I felt."
The Model UN Institute looks forward to its continued partnership with the IDEA Public Schools, and to seeing the continued success of each of our alumni!
Special thanks to all of the IDEA students, teachers, and administrators that make our partnership possible.
Article by Stevan Tempesta, Jr., Diplomacy Fellow & President of the MUNI Alumni Board