Every year, seniors in high school –and their parents–eagerly await college acceptances letters. This year, Rebecca Hernandez, an MUN Institute Alumni, was thrilled to learn she was accepted to Harvard and plans to join the Harvard Class of 2019.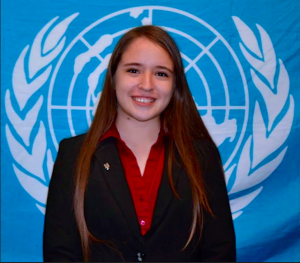 "When I saw congratulations I screamed and teared up. It was a very happy moment for me," explained Rebecca.
Rebecca Hernandez, a senior at IDEA Mission College Preparatory High School in Texas, never knew if she would have the opportunity to attend university outside of her community. Rebecca will be the first in her family to complete her Bachelors Degree.
Rebecca was born in Veracruz, Mexico. She spent her childhood growing up in the Rio Grande Valley region of Texas.  For many years Rebecca did not have the opportunity to travel outside of Texas. This changed for Rebecca in High School.
"Model UN opened a door for me to explore new places."
Rebecca joined the Model UN Team her sophomore year of High School and began training with the team. During her junior year Rebecca traveled to Georgetown's NAIMUN Conference with her Model UN Team.  After her junior year Rebecca attended the Model United Nations Institute by Best Delegate at Georgetown University.
"At first I was timid, but the Model UN Institute taught me to engage the audience."  
At the MUN Institute, Rebecca participated in public speaking, negotiation, and international relations lessons.  She also learned to represent different countries during interactive simulations on topics ranging from the use of Child Soldiers in war to the use of Drones.
While at the program, Rebecca's skills in Model UN improved as well as her confidence.  During the first speaking exercise Rebecca was shy and quiet, but by the end of the week she spoke with confidence about complex international issues.
"Model UN has helped me to be a better leader in my school."
Rebecca currently serves as the Vice President of her Model UN Team.  Rebecca utilizes the skills she learned at the MUN Institute and focuses on training new delegates and "teaching them the skills necessary to succeed in Model UN." Rebecca explained how this year one of the highlights for her was watching delegates she helped to train compete at Georgetown's NAIMUN conference.
When she is not busy with the Model United Nations Team, Rebecca is competing in Varsity Soccer, participating in the National Junior Honor Society, and serving as Class President.
Running for Class President: "I had to give a speech in front of all of the 12th grade."
When Rebecca returned from the MUN Institute she ran for senior class president.  Rebecca said that speaking in front of everyone, "made me nervous, but I learned a lot from the summer program, because I knew exactly where to stand, how to use my hands, and how to look at the audience."  Rebecca was elected as class president and credits her ability to speak in front of other students to her time in Model UN and at the MUN Institute.
"I knew how to convey my ideas during interviews."
Like many college applicants, Rebecca had interviews as part of the college admissions process including with Georgetown and Harvard. Rebecca said that, "I learned a lot from the MUN Institute! I know how to present myself in front of other people and how to engage the audience even in an interview." Rebecca also explained how the MUN Institute exposed her to a variety of perspectives and a diverse group of students. Rebecca feels that this helped her to relate to her interviewers in a more meaningful way.
 "I want to start a program for immigrants."
Rebecca is now studying Mathematics at Harvard, and she served as an MUN Mentor for the Summer 2016 MUN Institute! She then hopes to go to graduate school and study education.  One day Rebecca hopes to start a program for immigrants to help provide them with opportunities to succeed.
 Rebecca is one of the many incredibly successful MUN Institute alumni.
MUN institute alumni this year were accepted to Harvard, Yale, Princeton, Georgetown, Columbia, Brown, West Point and more!

Click here to see the success of our alumni!